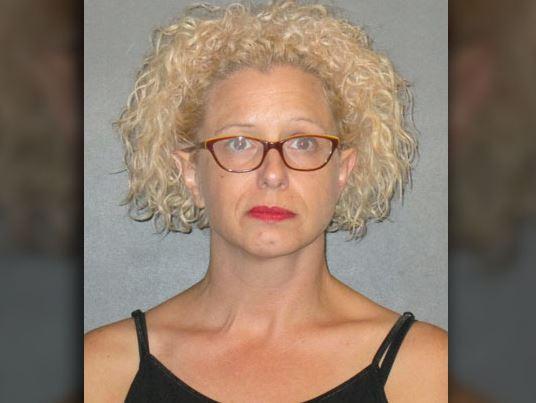 Louisiana – A 41-year-old teacher is behind bars after she allegedly confessed to having a sexual relationship with 16-year-old boy. According to the probable cause report submitted by the East Baton Rouge Parish Sheriff's Office, the student's parents contacted deputies… "They discovered inappropriate text messages on their child's cell phone," the deputy noted in the probable cause report. "They cross referenced the number and discovered that it belonged to a teacher at his school. They questioned their child about the messages and he admitted that he was involved in an inappropriate relationship with the accused… He admitted that he had sexual intercourse with [his teacher] at [the] school…," Deputies recovered nude photographs of the woman, Ashley Elizabeth Dowden, as well as sexually explicit text messages.
Remember how in "A Bronx Tale" Robert DeNiro keeps telling G how "the saddest thing in life is wasted talent"?  I happen to agree that's true.  But the second closest thing to that is wasted heart.  Someone who really wants it bad, puts their whole soul and being into it, makes every effort, but fails because they don't have the talent.  I'm talking about that kid who'll stick in nose in to the play to try to tackle someone twice as big as him but just doesn't have the size to get it done.  I'm talking about the aspiring actor who knocks on every door, goes to every audition and lives off Ramens hoping to make it, but will never make it.  Those thousands who try to get on "American Idol" but will never sing for an audience bigger than Saturday at the karaoke lounge at Cathay Center.  I'm talking about the dreamers like Ashley Elizabeth Dowden.  She has all the makings of a Sex Scandal Teacher great except where it really counts.  You can't help but admire her hustle and root for her.  But like I always say, you can't teach looks.
The Grades:
Looks: Andy Dick. Grade: D
Moral Compass/Bad Judgment: Sex in the school.  Sext messages.  Nude pictures all over the place.  Rudy, I wish I could put your heart into some of these other guys' bodies.  Grade: A
Intangibles: Not much to go on here.  Even her name sounds more like a mass murderer than a porn star.  But Baton Rouge is literally French for "big red pole."  That's all I got.  Grade: C-
Overall: C- Sorry, Ashley Elizabeth.  But don't give up. Don't ever, ever give up.
[thanks to @OldMetJohn] Have information about a hot female teacher having sex with her students? Preferably with pictures? Help make the world safe for Teacher Sex Scandals by Tweeting me @jerrythornton1.