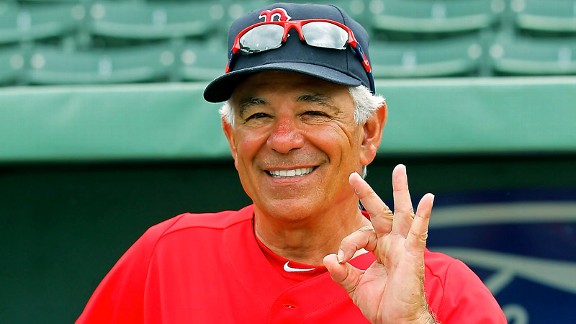 WEEI.com – Red Sox manager Bobby Valentine, in his appearance on The Big Show on Wednesday, said that the only time that team owners have talked to him about his communication with players was when, at the conclusion of a rough defensive inning in which Will Middlebrooks made a couple of defensive miscues, the manager offered a sarcastic remark to the rookie. "Ownership did come and say that they heard that a game when — or someone, actually ownership — that they heard when Will Middlebrooks made two errors in a game and he came off of the field and got into the dugout, I said, 'Nice inning, Will,' and that maybe that upset him," said Valentine. "Now, they didn't take it further and find out after the game that I went over to Will's locker, I was trying to be light at the time with the 'Nice inning,' then I went over to his locker and told him about my experience of making three errors, being booed off the field and cushions being thrown from the Dodger Stadium fandom and me dodging them as I got into the dugout. If you're going to deal with part of the story, then believe me, it's not the story."
Click here for the audio, right at the beginning of the clip.
So this is it for Bobby V, right?  This is the beginning of the end. If he's smart he won't buy anything new for his office or even green bananas for that matter because he won't last long enough. I mean, you don't recover from this.  Some nose dives are just to steep to yank back on the wheel and pull out of them.  And when the owner is calling you into his office to chew you out because Will Middlebrooks (66 career games) came to him complaining you hurt his feelings, you're in a tailspin that can only end up in a fiery smudge hole in the ground.
But this latest thing says a thousand-fold more about the Sox ownership than it does about Valentine.  The Lucchino-Warner-Creepy triad has done the impossible: they turned the overbearing Bobby Valentine – the smartest man in the room and the one who believes everyone is entitled to his opinion- into a sympathetic figure.  Seriously I don't think much of his managerial style and don't think players can listen to a guy like him 12 hours a day, everyday, from February to October.  But he's not stupid.  And he at least deserved a chance to succeed.  But the owners made sure it was over for him before it started.  They only let him bring one coach with him.  The rest are all still loyal to Francona.  Half of them won't even talk to Valentine.  Francona comes to the Sox clubhouse and the same players who quit on him and got him fired play grabass with him.  Meanwhile Bobby was stuck huddled in his office like the stepdad all the kids hate.  It's pathetic.  And while Valentine is not entirely without blame, there's only one way to run an organization and that's to support the man you put in charge, right or wrong.  When a rookie comes to you complaining that he got his feelings hurt, you give him the "Rogers Hornsby was my manager, and he called me a walking pile of pig shit.  And that was when my parents drove all the way down from Michigan to see me play" speech.  Then you throw his ass out of your office and tell him if he goes over anyone's head again, he'll be spending the night at the Pawtucket Motel 6.  But not this Sox ownership.  They let the inmates run the asylum, then scapegoat the manager.
The only questions now are: How long until they fire Valentine? And what will they say in the smear campaign as they kick him in the ass on his way out the door? @JerryThornton1
PS. For the record, Middlebrooks claims he doesn't remember the "Nice inning" incident.  But also for the record, Valentine brought it up.  No one else had heard about it.  So if he's making sure the public knows this is going on, he's fed up as all Hell with this nonsense just like the rest of us.