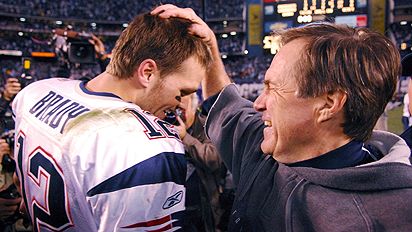 USA Today – Tom Brady, heading into Year 13 of his remarkable run with the New England Patriots … sounds like a guy who hasn't let his enormous success change the basic approach to the game. Like pleasing the coach. Mindful of performance, he maintains that ultimately he might not hold the decision of when to hang up his cleats. He insisted — with a straight face — that maybe it will be Head Coach Bill Belichick's call. "So I'm still working hard, doing my job, because that's what he's looking for," Brady said. "And the day that's not what he's looking for, there comes a time for everybody. I hope to make that decision hard on him for a very, very long time."
Considering everything that's gone on in the last 12 months, could anything ever sum up the difference between your current Patriots and your current Red Sox better than this one paragraph?  Here you've got Tom Brady, who's won championships and MVPs and set records.  A 7th round draft pick who's worked and studied and grinded his way into being the gold standard at his position.  The hardest position in all of sports, by the way.  Most days he wakes up in a castle next to the perfect woman on a bed made out of gold, jewels and Unobtainium. And yet every day he's driven by the desire to satisfy his coach like he's some slapdick special teamer hoping to land a spot on the practice squad.  Meanwhile the Sox roster is stuffed with lazy, unmotivated, underachieving slobs who can't be bothered to pay their last respects to a legend and war hero because it would cut into their nappy time.
The Patriots and Sox are starting to sound more and more like the Dogs vs Cats blogs Dave has done.  The Pats are dogs: loyal, hard-working, and faithful and want to please their masters.  The Sox are cats: selfish, self-absorbed narcissists who couldn't care less about the hand that feeds them.  It really is the perfect analogy.  Especially for one other reason: everyone whose opinion I respect loves dogs and hates cats.
PS.  Brady says he wants to make it "hard on" Belichick.  Whereas for 13 years he's only been giving him a hard-on.  @JerryThornton1