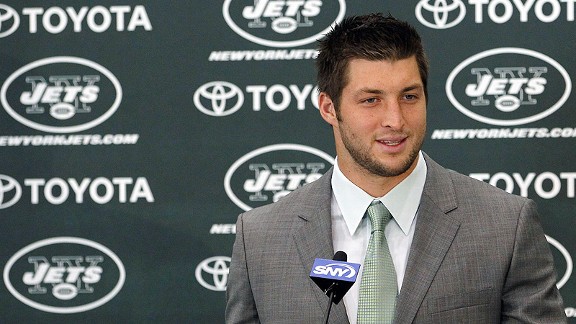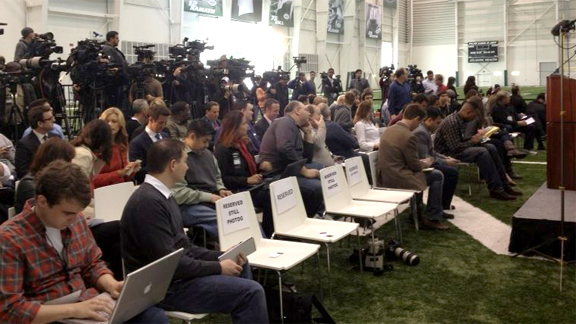 NY Post – The Tim Tebow era began for the Jets on Monday with a crowded press conference at the Jets field house. But Tebow was peppered with almost as many questions about incumbent quarterback Mark Sanchez as he was himself. Tebow said he has met with several of his Jets teammates, and has exchanged texts with Sanchez. "From my conversations about him he was excited to be working with me, and I am excited. I have a lot of respect for him as a person, football player," Tebow said. "We talked about that. I am excited about that opportunity." …Tebow was asked if he was content to backup Sanchez with the Jets."I think for everybody that puts on a uniform, you want to go out there and you want to play," the 24-year-old said. "I want to be a Jet, help the team however we can." …Tebow blamed Jets brass for the circus-like press conference to introduce him. But owner Woody Johnnson, GM Mike Tannebaum and Ryan were in Palm Springs, Fla at the NFL owners meetings and not in Florham Park with Tebow. He disagreed with claims that this move was purely a publicity stunt by the Jets. "I really don't take offense to that," Tebow said. "I don't think it's true. Because I think the Jets get a lot of support as it is."
I guess Tebow really is a Jet now.  This media dog & pony show (250 press credentials given out) makes it official.  Because you can't really be a New York Jet until you've proven you're willing to talk out your asshole, which God's Other Son did here in spades.  Tebow conveniently forgot that Commandment that says "Lies make the Baby Jesus cry" and did nothing but bear false witness from one end of this fiasco to the other.  For starters, is anyone buying that he came to New York to be Sanchez' backup?  He could've gone to Jacksonville and been hero-worshipped, but he knew he's got a ten times better shot to steal Sanchez' job than Blaine Gabbert's.  And if they're really so "excited" to work together, how is it that Sanchez can't be bothered to do anything more than text? Or the way Tebow said "From my conversations about him…." [italics mine]?  That tells us everything we need to know about these two.  Sanchez isn't talking to him, period.   Because three years into a QB's career when you the No. 5 choice in the draft, you don't get "excited" to work with a guy who has a lot of "respect" for you "as a person, football player" but rode into town to take your job.  You hate and resent the carpetbagging prick with every strand of DNA in your body. It's human nature.  So Tebow can knock off the happy spin because it's not fooling anyone.  Saying the team didn't put on his circus as a publicity stunt is a flat out lie.  What other possible reason could it be for other than to grab the back page of the tabloids another couple of days?  Because everyone wants to hear what the 2nd string quarterback has to say?  Please. I guess by that logic we should all look forward to the next big Brian Hoyer presser.
So Tebow hasn't been a Jet for more than a couple of days and he's already learned to lie, manipulate the press and point his  finger at management.  All that's left now is for him to learn how to run his mouth, guarantee wins, bang high school girls, trip people from the sidelines, knock bitches up, have sex with feet and Plaxidentally shoot himself in the leg and he'll totally fit in.  @JerryThornton1
PS.  The 2nd best quarterback in the AFC East right now is Brian Hoyer.